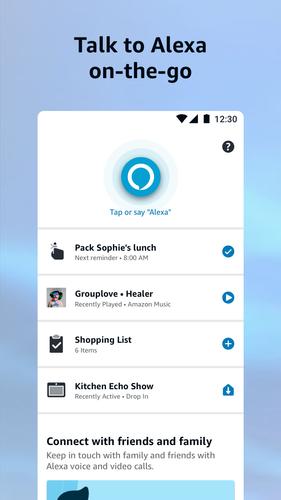 Amazon Alexa is a voice-controlled "personal assistant" on your mobile devices, which will perform various tasks for you and help schedule your day.
Features:

— Manage your smart home devices.
— Play music, books, radio, and more.
— Schedule your day by creating shopping lists, and to-do lists, getting weather and news updates, setting an alarm, etc.
— Available in both dark and light mode.
Use the Amazon Alexa App to set up your Alexa-enabled devices, listen to music, create shopping lists, get news updates, and much more. The more you use Alexa, the more she adapts to your voice, vocabulary, and personal preferences.
DISCOVER MORE
• Get more out of your Echo device through personalized feature recommendations from Alexa
• Discover and enable recommended Alexa skills
• Pick up where you left off directly from the home feed with lists, shopping, or recently played Music and Books
MANAGE YOUR DEVICES
• Set up your Alexa-enabled devices, control or check the status of your compatible smart lights, locks, and thermostats at home or on the go
• Create routines to automate your smart home devices
MUSIC & BOOKS
• Connect to music services like Amazon Music, Pandora, Spotify, TuneIn, and iHeartRadio. Choose a song or playlist and listen on your Alexa-enabled devices
• Create speaker groups to play music across your compatible Echo devices for multi-room music
ORGANIZE YOUR DAY
• View and edit shopping and to-do lists on the go, get weather and news updates, manage timers and alarms, and more
STAY CONNECTED
• Use Drop-In from your app to connect instantly with your compatible Echo devices, like a two-way intercom
• Call or message supported Alexa-enabled devices, at no additional cost