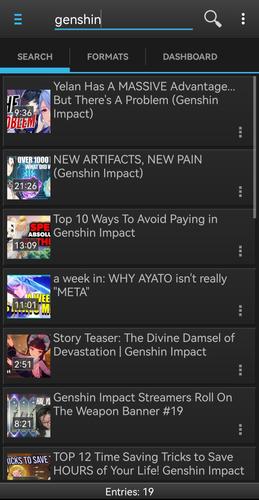 YouTube Downloader for Android is an Android app to download YouTube videos (and extract/convert audio to mp3). The Android app has a straightforward user interface and has no ads.
As soon as you select the video, the app takes you to the Format tab where you can choose the video format. Video preview is not available on this video downloader for YouTube videos. Once you choose the format, you will see the download status on the Dashboard.
Features
Search for YouTube videos within the app;
Download on your device;
Remote download on another PC via SSH;
Multi-threaded downloads: maximizes bandwidth available and minimizes YouTube's speed throttling;
Support for almost any format/quality available from YouTube;
Audio extraction to aac/ogg or conversion to mp3 (menu available via single-click on items in the Dashboard tab);
Mp3's ID3 tags edit;
Mux Audio-Only and Video-Only streams into a complete video (to enjoy HD resolutions available as separated streams only);
File management (menu available via long-click on items in the Dashboard tab);
Handle download link: copy and/or pass it to other apps;
Video list filters by format, quality etc via (left) sliding menu;
Many preferences to customize usage.