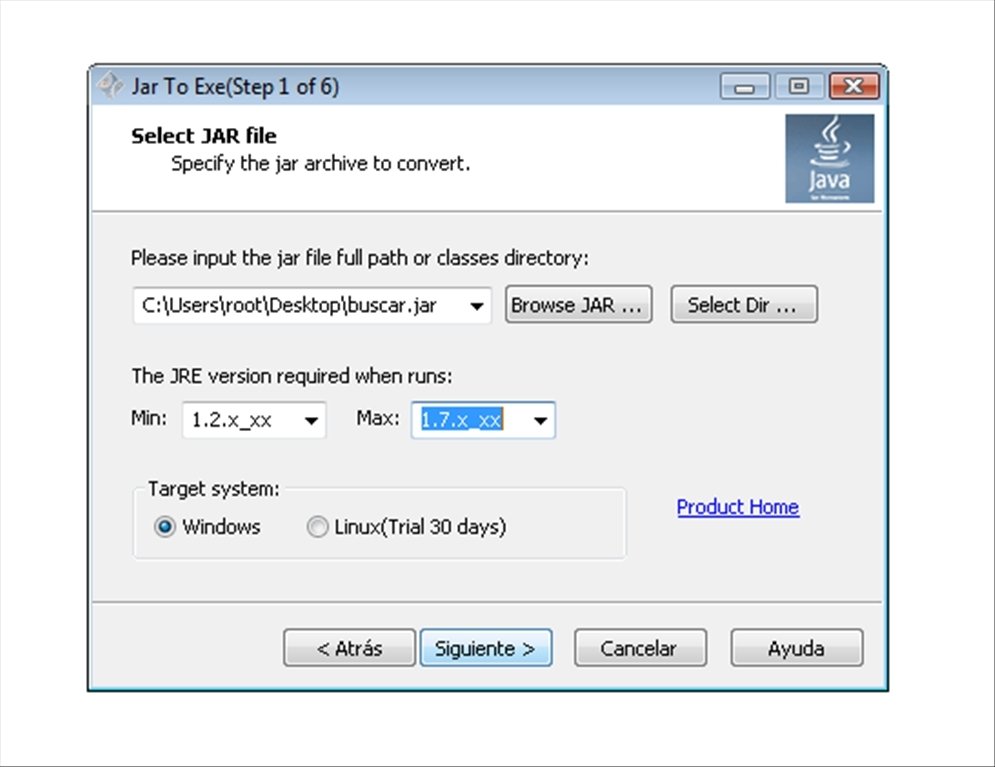 Software para convertir archivos JAR en EXE
Los programas desarrollados en Java pueden no resultar tan cómodos de instalar como los tradicionales archivos EXE. Por eso Jar to Exe te ofrece una forma muy simple de convertir archivos Java en ejecutables binarios tanto para Windows como para Linux.
Envuelve, ejecuta, protege y potencia programas Java como archivos binarios.
¿Cómo usar Jar to Exe?
El proceso de conversión de archivos JAR en EXE se desarrolla a lo largo de 6 pasos:
Localiza el archivo Java e indica la versión mínima y máxima de Java que necesita.
Elige si es una aplicación de consola, tiene interfaz o se trata de un servicio.
Selecciona la función original del programa.
Configura las opciones adicionales.
Añade otros archivos dependientes si es necesario.
Escoge el nombre, el icono y el directorio de salida.
Con Jar to Exe te será mucho más fácil abrir archivos con la extensión .jar, pero también proteger la extracción de archivos de clases del código e incluso mejorar su rendimiento general.
Trabaja con archivos Java como si fueran simples ejecutables en formato EXE. Quizás descargar gratis Jar2Exe en español no sea posible, pero vistas sus funciones tampoco importa.
Requisitos e información adicional:
La versión de evaluación se puede utilizar durante 30 días.
Requiere disponer de un compresor compatible con archivos ZIP.