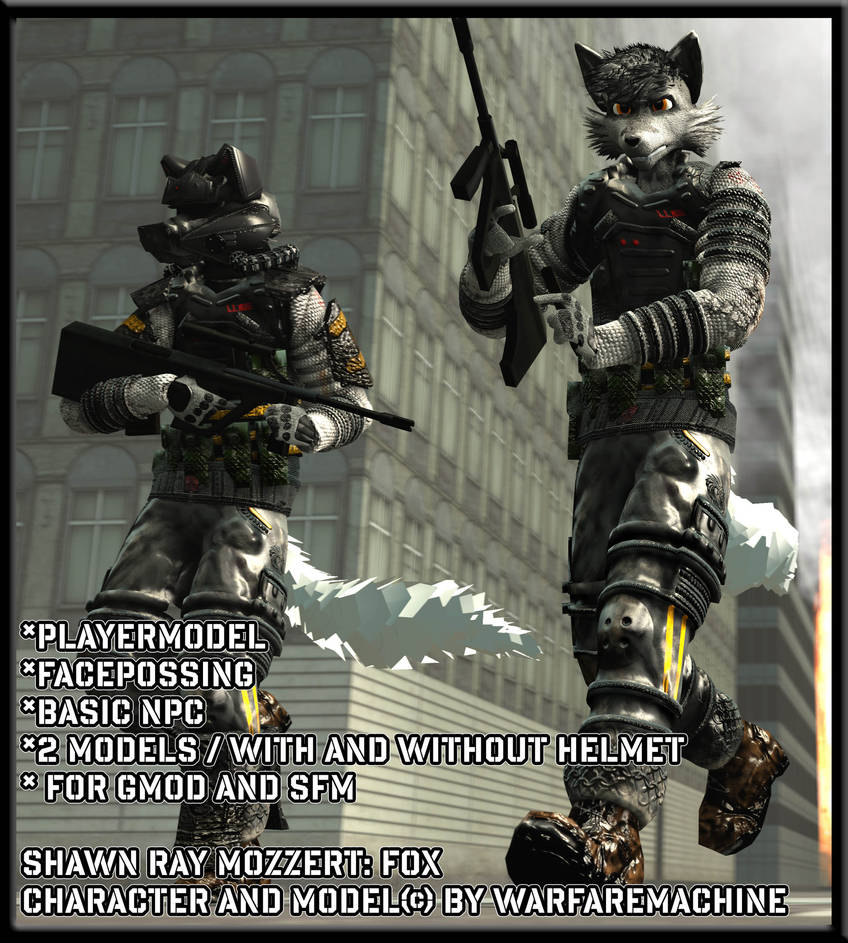 HI COMMRADES!
Here is a Beta model of my Fursona "Shawn Mozzert" and a new armored uniform
GMOD ADDON DOWNLOAD LINK
sta.sh/0uvhr52ljdn
SFM Model patch
sta.sh/01nawhe4uhhy
EDIT! I FIXED THE LINKS ORDERS !
SORRY MATES
if you have time, here is a little history of the suit called BDV-1 (Ballistic Defensive Vest)
In 1996 during the north Raidkaid advancing in Velsghat planet, due a overwhelm quantity of the clones and the weakness of the allied human offensive, the Wolphram faction was thinking in a kind of cheap, resistent and heavy uniform to contrarrest the quantity of the enemies but need be fast at same time to break the lines, for be heavy is hard to the user carry it.
In the back here is some tensors to help the limbs extend and contract, the helmet not just protect the face and head, the tubes bring in the air supply a some kind of anabolic mixture what increases the average muscle strength, itself the suit equipment weight 60kg and its composed with Kevlar, steel fibers and shock reactive rubber, tested in November of 1996 by the 1st div of WAF Specs Ops during the first "syringe operations" demonstrating be a excellent bullet proof suit.
In may of 1997 the WAF in cooperation with China, Russia, USA armies and velsghatians nations, started a massive offensive against the Raidkaid advance, the velsghatians 10.000 volunteers was equipped with BDV-1,
After to gain a great advantage in the front, they gained the name of the WOLPHROMISTS to become the first Official Infantry division in Velsghat becoming independent from the humans factions.
That's all buddies! If you have questions or issues give a comment!
Salutes! Warfaremachine out!