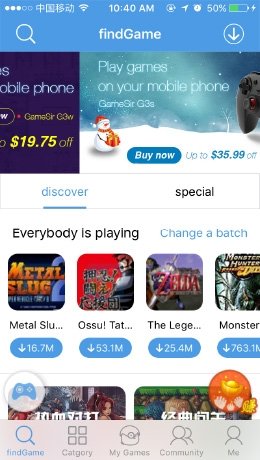 Classic game console emulator for iPhone
Despite their graphical limitations if we compare them to the current domestic leisure systems (in other words, modern PCs, PS4, Xbox One or Nintendo Switch), due to their nostalgic component, classic video consoles such as the NES, Super NES, Nintendo 64, SEGA Mega Drive or PlayStation have marked us forever, especially if you're a gamer that's going grey.
At the end of the 80s' and beginning of the '90s, gamers wasted a lot of time playing classic games of the likes of Street Fighter, Mario Bros., Sonic or Zelda, to name just a few. We're talking about 2D games, without any surround experience, no HD sounds, and obviously no 4K graphics. It was the era of 8 and 16 bits, and that we can now bring back by means of emulators.
One of the best emulators of consoles and arcade machines for Windows and Mac is definitely MAME. It stands out for how easy it is to load a game if you've downloaded its ROM, becoming one of the favorite programs of this nature among users that want to bring back this classic experience. But what happens if you want to download a video console emulator for Android or iPhone? Well, Happy Chick Emulator is a great option.
The best emulator for iPhone? Possibly
We're probably talking about the best classic video console emulator for iPhone and iPad. Mainly because the application itself offers us a huge catalog of classic games that we can download. You won't have to leave the main menu at any moment because you'll be able to explore all the games on site.
For instance, if you wanted to download Metal Slug, you'd only have to search for it in the search box and choose the download option. Then you run it from the game management menu and that's it.
When it comes to playing you'll be offered an on-screen gamepad that recreates the controls of the original joystick with the usual direction and action buttons, the number of which will depend on the platform.
But you're probably wondering if it's really as good as it seems. Well, there are two tiny details that might put you a bit off: the first one is the language as it's only available in Chinese, although that's not a problem as the menu is quite simple.
The other one is a bit more complicated to solve: you need to jailbreak your device. That's the equivalent to rooting your Android but on iPhone, although the user's of Google's operating system won't have to do so if they download the APK of Happy Chick.
An emulator capable of bringing to your iPhone or iPad video consoles of the likes of NES, PSP, Master System or SEGA Saturn.
So, if you want to enjoy playing classic games you're going to have to go through this process… then the file is downloaded in IPA format (nothing to do with the beer, of course), you install it and you start playing. How to download the app is also simple, just click on our download button. You might not want to use it on your new iPhone 7, but if you've got an old iPhone 4 or 5, it could be a great option.
And regarding the weight of Happy Chick… well, version 1.5.4 weighs about 72 MB but this space will obviously increase depending on the games you download.
Main features of Happy Chick
The most important features and functions that you can make use of with this app are the following:
Emulate up to 18 different gaming systems.
Thousands of titles in the catalog.
Configure your own control map of the gamepad.
High-speed game downloads.
Support for a real-time online multiplayer mode.
Play with your friends on a local area network.
Very simple: one click to download and install.
Sync several devices to resume saved games.
Search for games by browsing the catalog, using the manual search tool or flicking through the suggestions and editor's pick.
Control your downloads and game library from your user area.
It's a 100% safe emulator that even runs on iOS 10. Make sure you download the latest version to keep up with all its updates and new features.
Requirements and additional information:
Requires and iOS device with jailbreak.