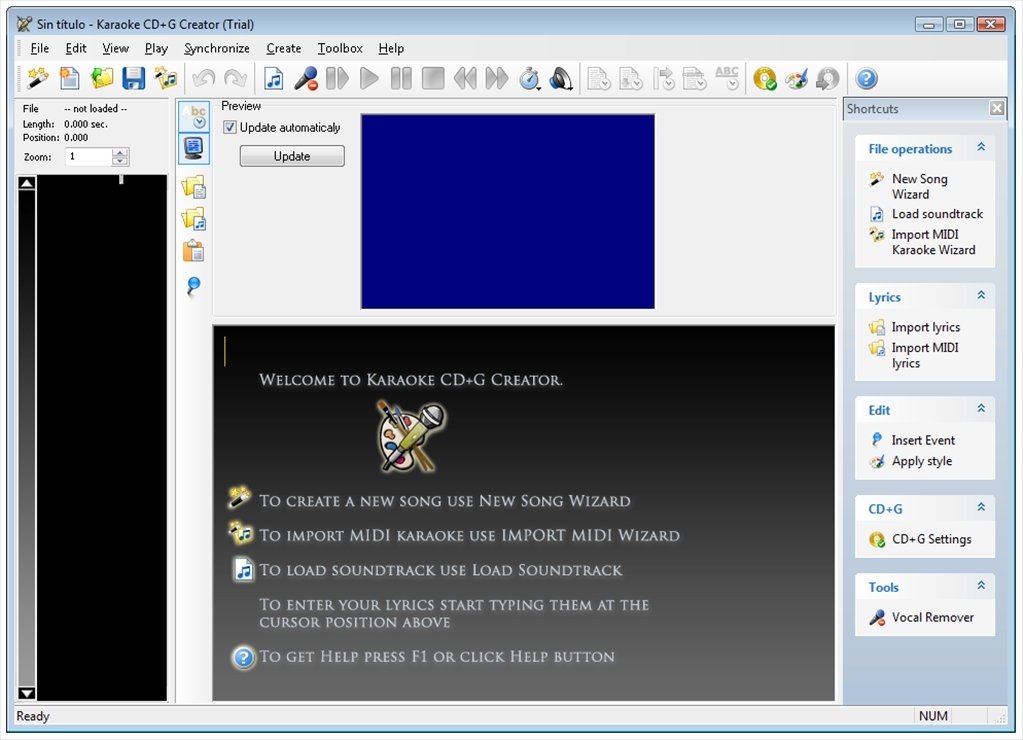 Create karaoke songs in CD+G format
Karaoke repertoires are often limited. If your favorite artist's tracks aren't available, Karaoke CD+G Creator could be very useful, as it allows you to create professional karaoke songs.
Karaoke CD+G Creator is an authoring tool for making CD+G discs, a widely used format among karaokes that allows audio to be saved with low resolution graphics, a popular choice for displaying on-screen lyrics.
Features
Create your own karaoke songs on CD+G disks.
Make new songs from scratch or import KAR files.
Includes a searchtool for Karaoke MIDI files that can be converted to CD+G disks.
Search lyrics on the internet.
Use WAV or MP3 audio formats.
"Power Vocal Remover" tool to remove vocals from songs.
Includes step by step tutorials that will show you how to add lyrics, syncronize them to the music, and finally, create CD+G disks.
Offers advanced functions that allow you to insert titles and credits, change fonts, and modify images, amongst others.
Combine your performance with images
Although it may seem so, creating a karaoke track is not limited to synchronizing audio and lyrics. Karaoke CD+G Creator offers numerous options regarding images. You can add any image you want and even include visual effects. Play around with distribution and lyric placement for the perfect results.
The software has its own integrated player that allows you to play CD+G discs or MP3G files straight from your computer.
Download Karaoke CD+G Creator and create your own karaoke songs in CD+G format.
Requirements and additional information:
The evaluation copy has limited functions.