The Galaxy Tab S8 and Galaxy Tab A8 are two of Samsung's tablet options for 2022. But with a price difference of nearly $500 between them, is the Tab S8 really worth that much extra cash? If there's any company doing its best to keep Android tablets alive, it's Samsung. While brands like Google and Motorola have jumped ship over the years, Samsung's remained committed to churning out new tablets every single year, and 2022 has been no exception.
Samsung announced the Galaxy Tab A8 in mid-January as a budget option. A few weeks later, the Galaxy Tab S8 series debuted to grow Samsung's flagship lineup. At the bottom of the Tab S8 family is the baseline Galaxy Tab S8 — retailing for $699. It's the lowest-end version of the Tab S8 you can buy, but it's also $470 more expensive than the $229 Galaxy Tab A8. If you're confused about which tablet is the best choice for you, here's a closer look at everything different between the two.
Related: Galaxy Tab S8 Vs. Galaxy Tab S8 Plus: Should You Spend $699 Or $899?
Size-wise, the Tab S8 and Tab A8 are pretty similar. The former has an 11-inch LCD display, whereas the latter has a 10.5-inch LCD display. However, the quality of these screens is quite different. The Galaxy Tab S8 has a sharper 2,560 x 1,600 resolution with a 120Hz refresh rate for fluid animations. In comparison, the Tab A8 has a 1,920 x 1,200 resolution and a 60Hz refresh rate. The Tab A8 has a very good-looking screen for its low price, but the Tab S8's is noticeably crisper and more responsive. There are also some subtle design differences. The S8 is a bit larger all around, measuring 9.99 x 6.51 x 0.25 inches. The Tab A8, however, measures 9.72 x 6.37 x 0.27 inches. Despite the larger size, the Tab S8 is slightly lighter than the Tab A8 (1.10 pounds vs. 1.12 pounds).
Other Differences Between Tab S8 & Tab A8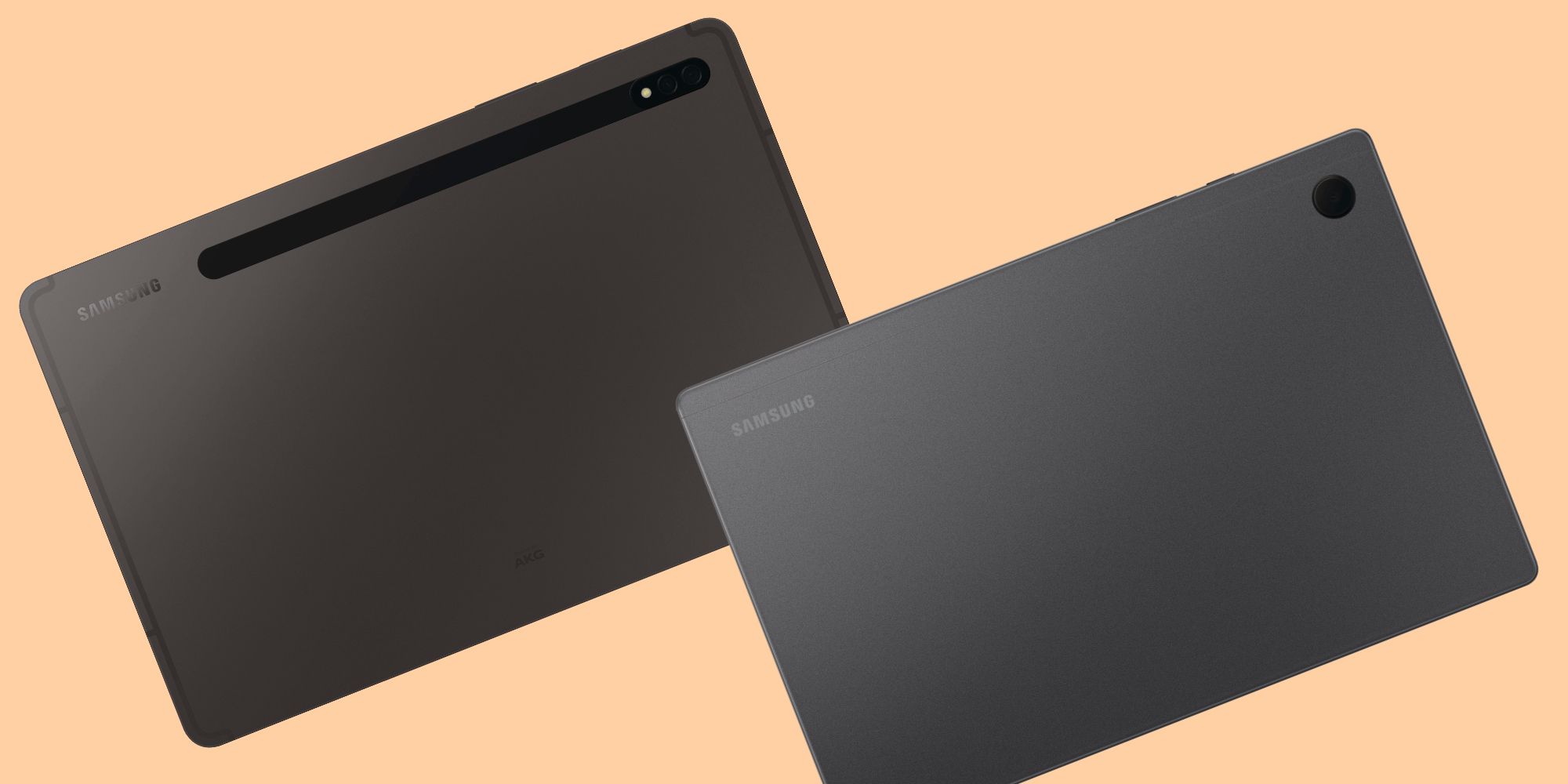 The Galaxy Tab S8 offers even greater advantages under the hood. Powering the Tab S8 is Qualcomm's flagship Snapdragon 8 Gen 1 chipset that also powers the Galaxy S22 series. It can handle virtually any app or game with ease, especially when paired with 8GB of RAM. As expected, the cheaper Galaxy Tab A8 is considerably less powerful. It has an octa-core Unisoc T618 processor with either 3GB or 4GB of RAM. It's capable enough for most apps and light gaming, but power users will likely need more performance than what it has to offer. Similarly, the Tab A8 has three storage options of 32GB, 64GB, or 128GB. The Galaxy Tab S8 is available with either 128GB or 256GB of space.
And the differences don't stop there. The Galaxy Tab S8 also has the Tab A8 beat in the battery department — with an 8,000mAh cell instead of 7,040mAh. It also has faster Wi-Fi performance, a newer Bluetooth standard, faster charging (45W vs. 15W), and better software support. The Galaxy Tab S8 ships with Android 12 out of the box and is promised four years of major Android updates. Not only is the Galaxy Tab A8 still running Android 11 (Android 12 is being rolled out in phases), but it won't get update support for as long as the Tab S8 either.
While these are all drastic spec and feature differences between the Galaxy Tab S8 and Galaxy Tab A8, none of them should come as a surprise. The Tab S8 is a flagship tablet, the Tab A8 is a budget tablet, and they're priced accordingly. It's up to you to decide if it's worth spending more than triple the price of the Tab A8 for the Tab S8. For its part, the Galaxy Tab A8 is a perfectly adequate Android tablet for $229. It has a good-looking display, fine performance, and a decently sized battery. Whether someone needs a cheap tablet for watching Netflix or something for their kid to use, it's a pretty solid value. If you expect to play graphically intense games, run lots of apps at once, and/or want a tablet for creativity (thanks to the included S Pen), the Galaxy Tab S8 is worth the upgrade. It certainly isn't cheap, but for shoppers who can afford it and make use of its more capable specs, the experience it offers is better than the Samsung Galaxy Tab A8 in virtually every way.
Galaxy Tab S6 Lite Is Another Great Option
If you don't have the budget for the Galaxy Tab S8 but want something more powerful than the Galaxy Tab A8, you can consider the Galaxy Tab S6 Lite instead. The 2022 edition of the tablet is priced starting at $299, making it just $70 more than the Tab A8. While the Tab S6 Lite shares many similarities with the cheaper Tab A8, it does come with some notable differences. For starters, it features the Snapdragon 720G processor which is much more capable than the Tab A8's Unisoc SoC. Additionally, the base variant offers more RAM and storage with 4GB RAM and 64GB, respectively.
But the Galaxy Tab S6 Lite's best feature is support for the S Pen, which comes included in the box as well. This makes the Tab S6 Lite a great option for those who want stylus support without spending too much. Another advantage of the Tab S6 Lite is that it runs Android 12 out of the box. Apart from these features, the Tab S6 Lite and Tab A8 are on par in several other departments, including the display, cameras, battery, and connectivity. For those who want a Samsung tablet that's a cheaper version of the Galaxy Tab S8, the Tab S6 Lite is a great option to consider.
Next: Does Galaxy Tab S8 Come With A Charger?
Source: Samsung