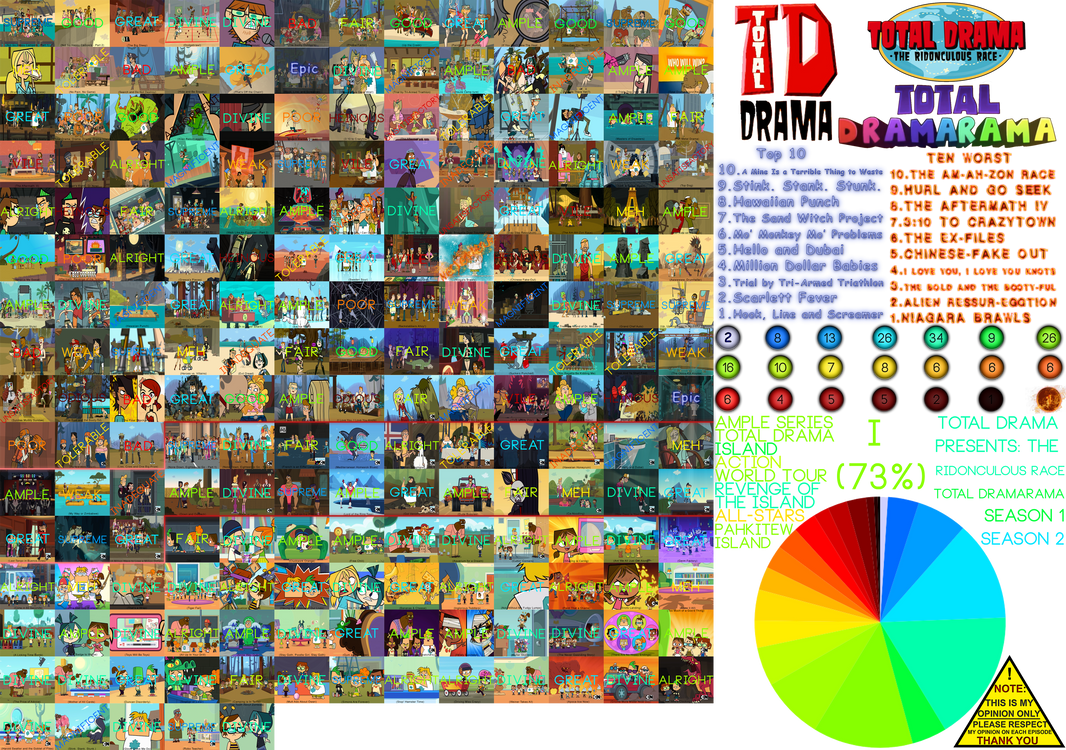 Originally uploaded on February 17, 2017
This is one of the few shows I used to watch commonly, along with SpongeBob SquarePants, Regular Show, The Amazing World of Gumball, and Johnny Test. I liked Total Drama, even though It felt a little edgy. That's because Cartoon Network, the network where I've seen a Total Drama episode, has felt more like it was more for teens than children. I used to watch all episodes of Total Drama Island, Total Drama Action, and Total Drama World Tour usually when they rerun on the network. I've seen the first few episodes of Total Drama: Revenge of the Island and Total Drama: Pahkitew Island, along with the last 3 episodes of Total Drama: All-Stars. I haven't seen Total Drama: The Ridonculous Race because I didn't have cable ever since in the Summer of 2014. I've heard of the show back when it was announced, but I never watched any episodes of the show.
Therefore, while thinking about what show I want to review next, I decided to do Rugrats, then CatDog, and finally Total Drama. So, what are my thoughts on the series? Well, I think that the series is pretty fresh and original. Since the jokes in the series are edgier compared to SpongeBob's humor, I didn't have a problem with them. This show mostly focuses on the characters, on which I can still forgive because each season has awesome character development. Mixed with a lot of well-written characters adds to how much I love the characters in the show.
The challenges are what took up most of the story, and a lot of them ended up being interesting and fun. It's also a surprise that the series is a reality show, and that makes it feel more fresh and interesting, even though the entire series feel pretty similar to Laff-a-Lympics. The elimination in all shows actually boosts up the suspense for fans and viewers to see who of which will be eliminated from Total Drama. Yeah, it's pretty fun to see suspense swarming around the elimination game.
But even with those supreme perks, there's also Flanderization and drama throughout Total Drama's run, and they're obviously a miss because they take up a large portion of the episode, which tries to make the audience feel frustrated. Because that Total Drama has drama in the title, it could mean that there could be drama throughout the series. While I can forgive Fresh TV, because that the show is intended to have drama, it tries to make every single episode frustrating, but most reality shows also have tensions in them, and since the series is, again, a reality show, it's intended to have drama.
Sometimes, some scenes from some episodes are just pointless. For example, Courtney returning in Ocean's Eight – Or Nine was pretty dumb. Even though the lawyers made Chris put her back into the show, it's still just dumb because they didn't specifically explain why this happened, and what would happen the Total Drama Action if Chris refuses to accept the lawyers.
Not only that, but there's also shipping hell episodes in the show too (3:10 to Crazytown, Niagara Brawls, and I Love You, I Love You Knots just to name a few). Dating in Total Drama is mostly hit, but occasionally can be a miss because it can be awkward (and I mean really awkward) to see one character trying to impress another character, one character going full on stalk on his/her crush, or one character being involved in a love triangle. Episodes with those plots just ruin the experience and charm that episode could've give us, and instead give us with bad characterization that's scared characters to be specific.
Some characters in the show are rather bland or just infuriating. They could get on your nerves or just simply annoy you. But I'm not saying that every character in the show is bad, but a lot of them are strong and loveable. There are some characters that have an interesting story of their own, and those that I'd want more from them.
Oh, and what about Total Dramarama? Well, this and a few paragraphs will be about this show since it seems to deviate the most from the franchise. Anyways, I've been really enjoying this series so far. It aims for a light-hearted tone and does the best with it with some surprisingly interesting and clever premises and ideas. Not only that, but the humor isn't too far behind that of the other series from this franchise where yes it's immature and juvenile but smarter that I find humorous enough to crack a smile in my face. This also implies to many of Owen's gross gags that are smartly timed just like how his jokes turned out in the other shows. Even as a teen while typing this review, I kind of find some of the situations in some of the episodes relatable.
The animation does seem bland with the character designs and modeling them to resemble preschoolers makes them look nearly the same as their original counterparts, but much of the colors appear colorful and vibrant that shows off the energy of the series. The background music is well executed here as well where it has children humming the background music of the show with kazoos and recorders playing in the instrumentals. It may be annoying to some, but I thought it's cleverly used here. I may not like the random stock sound effects that are often used in transitions because they sound very low quality, but nothing much seems to hurt the animation.
And the characters? Well, they're like how they were back in the original series though with less flanderization and overall being just enjoyable. Some of these characters tend to have a heart for one another that help makes each character develop pretty well here whether if it's someone in the preschool group uniting all the preschoolers to achieve something or even care about Chef Hatchet in some cases (The Date, Aquarium for a Dream). Also, some of the jerkish characters who seem to be unlikeable get their comeuppance rather than get away with them, though Izzy is a pretty different story. As the show progressed, I noticed how the show was capable of taking advantage of these characters in ridiculous yet funny situations which includes Izzy's unpredictable behavior going along really well with her playful and imaginative personality and Duncan being the one who wants to break out of daycare. But it's not the preschool characters I enjoy the most of the cast, it would be Chef Hatchet. The random shenanigans he must face throughout the life of daycare as well as do personal things are really enjoyable to see him constantly trying to make sure that the preschoolers' stay is a happy one.
Now that I finished reviewing this show, I'm going to give my verdict on the entire series. I decided
not to include my reviews on the other shows because it'll make this review too long. Anyways, the first two series (Total Drama and Total Drama Presents: the Ridonculous Race) is almost to the point where it's now in the mixed bag club, but with its appeal, originality, characterization, and humor, this show didn't make me feel annoyed (aside from the gross moments). As for Total Dramarama, I'm possibly enjoying it as much as Revenge of the Island and The Ridonculous Race thanks to its clever storylines, colorful and fitting animation, and an enjoyable cast of characters. With its execution being better than the first 2 shows I've reviewed, I'm happy enough that this show is ample to be good.