The Teen Wolf TV series focused on Scott McCall, a Beacon Hills high school student bitten by the werewolf Peter Hale. Over the course of six seasons, Scott protected his hometown from malevolent threats ranging from the Dread Doctors to the Oni and the Wild Hunt. He didn't do it alone. Scott assembled his own unique pack of not just werewolves but supernatural beings and humans. That group included Lydia (Holland Roden), a banshee capable of emitting a high-pitched scream and sensing when someone was dying. Malia (Shelley Hennig) also counted herself as a member of the McCall Pack. A werecoyote, she possesses enhanced strength, speed, stamina, and senses.
It's no wonder these loyal powerhouses once again pitch in to defend Beacon Hills in Teen Wolf: The Movie. Taking place several years after the series finale, the film finds that Lydia and Malia have grown up and moved on. When Scott returns due to a looming evil, they heed his call. Roden and Hennig recently spoke with CBR about Lydia's new calling, the scream of a banshee, and the absence of Stiles.
CBR: In what ways have Lydia and Malia moved on in the last 15 years since we have seen them?
Holland Roden: Well, Lydia is not in Beacon Hills. I liked that they picked up from teenage-hood to our mid-30s and sort of catching up with our real ages. I loved that some of our real-life issues or experiences are actually being mirrored in a movie for somebody in their mid-30s. Lydia is climbing the corporate ladder and dedicated to her work. What brings her back to Beacon Hills… I liked how they approached that.
Shelley Hennig: Malia didn't leave Beacon Hills. She stayed. I kind of filled in the blanks that she was pretty devastated when Scott decided to leave. She felt like everyone had given up, so she's been kind of laying low. She has a new love interest. She is living the simple life, and I think it's because there are so many years she missed out on. She is still playing catch up. She is just trying to keep it simple, and then she gets the call that the pack is coming back and that there's a threat. She couldn't be more delighted but also extremely nervous.
What is the deal between Malia and Parrish [Ryan Kelley]?
Hennig: Good question. According to what we just learned in the previous interview, Jeff [Davis] just liked our two bodies together. Jeff is a visual guy. He just says, "Oh, that looks good." Parrish is in Beacon Hills. Malia stayed in Beacon Hills. She loves the pack. He as a part of that. So, it kinda makes sense. I don't think she is going to go and find some normal person in Beacon Hills and have that. I think she is a very physical person and they obviously have great sex together. She can be primal, but I think there is also a world where she is trying to see if she can love for real, again.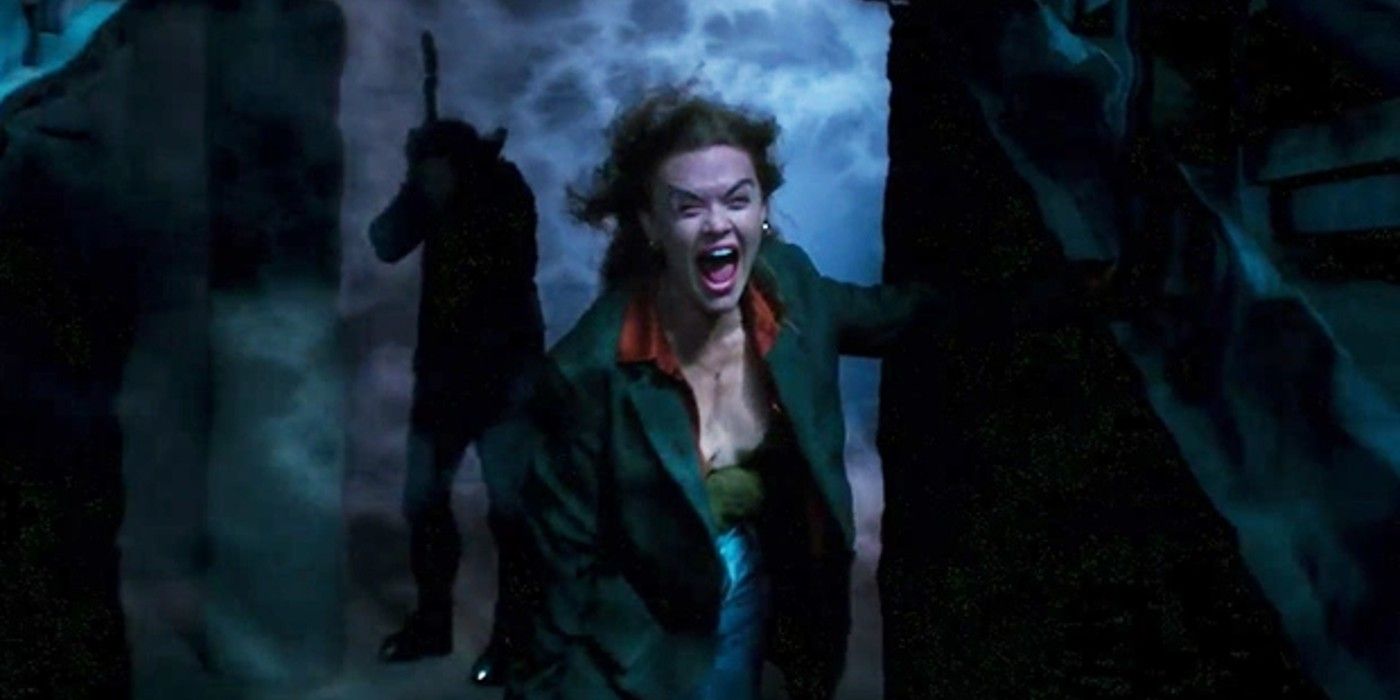 RELATED: Teen Wolf: The Movie's Tyler Posey and Crystal Reed Break Down Supernatural Crisis
Holland, what was it like letting the banshee cry loose again?
Roden: Painful. Physically painful. I like the adult banshee scream of who she is trying to save. It was not all too dissimilar from a previous scream of trying to save a person in the show. It's that mixture of that adult banshee scream mixed with that reminiscence of that déjà vu blast from the past, that initial scream that took her to begin with.
Holland, how is Lydia handling Stiles' absence?
Roden: I love that it is addressed in the movie because I think fans are going to be looking for that with Lydia's character. I think it was an absolutely legitimate reason, especially in a banshee's mind, knowing what that could lead to, that she made the choice with the heaviness and gravity of the situation. She was able to grasp it and make the hard [and] right decision. I hope fans are happy with what Jeff has come up with because I really liked it.
Teen Wolf: The Movie premieres on Paramount+ on Jan. 26, 2023.