Pyramids are structures that occasionally appear in Terraria's Desert biome, and indeed they are the sources of some very unique items. One of these items is the Sandstorm in a Bottle, an accessory that allows players to do an improved double jump, and many fans will certainly want to have access to such a powerful effect. Fortunately, it is quite easy to obtain a Sandstorm in a Bottle with the help of the Terraria 1.4 Pyramid seed found in this brief guide.
Updated Dec 8th, 2021 by Russ Boswell: Those that are looking for a Sandstorm in a Bottle in Terraria 1.4 will need to find a Pyramid. Thankfully, there are tons of Terraria Pyramid Seeds that have dropped since the latest update took the game by storm. These seeds offer players a quick and easy route to a Sandstorm in a Bottle, as well as some other items. Those that are just looking for a Terraria Pyramid Seed for its aesthetic can also follow these suggestions. To give players better access to Sandstorm in a Bottle, the following list has been updated with even more Terraria Pyramid Seeds.
To cut right to the chase, players that wish to find a Pyramid in Terraria 1.4 should enter the following details at world creation:
RELATED: Use This Terraria 1.4 Seed for an Enchanted Sword and Starfury
World Seed: 1211831599
World Size: Medium
World Type: Master
World Evil: Corruption
Once the world connected to this Terraria 1.4 Pyramid seed has been generated, players should head directly to the west of the spawn point to find a Desert. The Pyramid is fully submerged in this biome, and Reddit user IamGreen112, the player that initially shared this Terraria 1.4 seed, has generated the following image, which will help fans locate the structure:

After a player has arrived at the Pyramid in this Terraria 1.4 seed, all that is left to do is to navigate through its interior until the chest that contains the Sandstorm in a Bottle is discovered. Fans can then equip this accessory or combine it with a Shiny Red Balloon to create a Sandstorm in a Balloon and further improve their jumping abilities.
For players that are in the market for more powerful accessories, this Terraria 1.4 Water Walking Boots seed may be of interest. Indeed, gaining the ability to walk on water can be very useful when navigating through Re-Logic's popular sandbox game, and this seed will help players do just that.
Additionally, this Terraria 1.4 Lava Charm seed will help those players that are trying to minimize the impact of that molten substance, and it contains a pair of Ice Skates as well. While these accessories will not be every fan's cup of tea, some players will certainly be happy to use these seeds and equip these items alongside their newly-obtained Sandstorm in a Bottle.
More Seeds For Pyramids And Sandstorm In A Bottle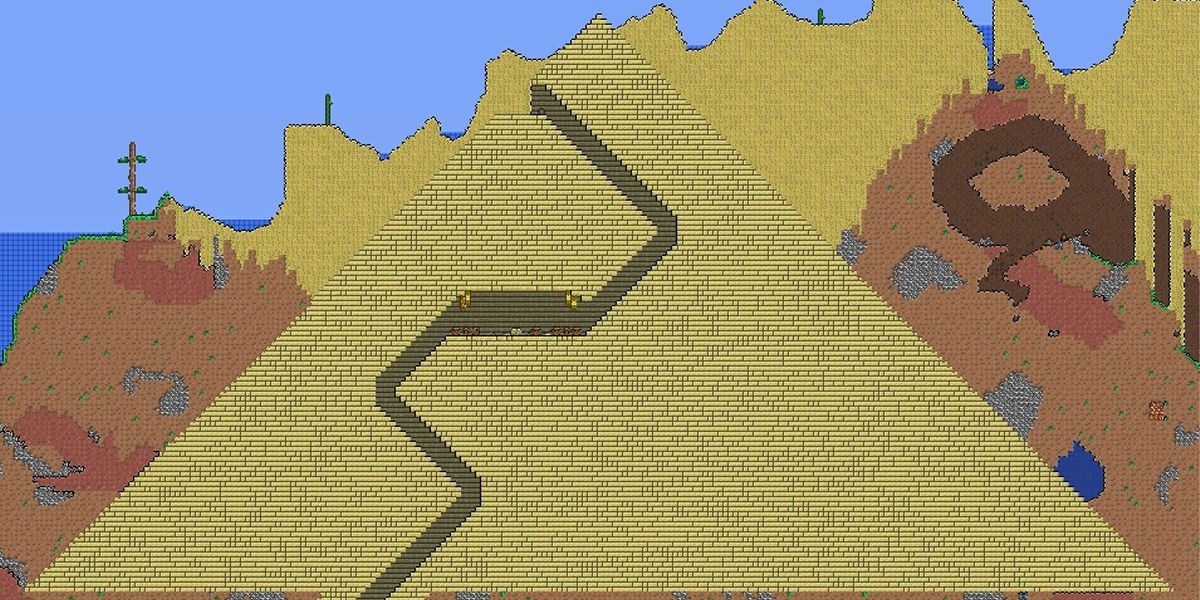 Although the above seed will work well for players that are seeking a Pyramid and a Sandstorm in a bottle, there are other seeds out there that also offer these things if players are seeking a little more variety in their overworld. Here's a look at some other seeds that players can use to find these items:
A Quick Journey For Both
World Seed: 1048039437
World Size: Small
World Type: Classic
World Evil: Corruption
Those looking to get their hands on a Sandstorm in a Bottle early and quickly will want to use this seed, which manages to generate a Pyramid approximately 55 blocks east of where players will spawn. Once gamers reach the Pyramid, they'll need to travel approximately 38 blocks underground to reach the area with the Sandstorm in a Bottle.
A Sandstorm In A Bottle And More
World Seed: 2.3.2.basement
World Size: Medium
World Type: Classic
World Evil: Corruption
A Sandstorm in a Bottle is great but it's not the only thing that players will need to survive the harsh world of Terraria. For those that need a few other items during their journey, they may want to consider the seed above from Reddit User Princess_Kika. The Terraria 1.4 seed will give players access to a Pyramid and a Sandstorm in a Bottle if they head left from spawn. There's also a pair of Water Walking Boots located in the Ocean towards the left of spawn and a Lava Charm at 3763 West and 1664 Down.
Terraria is out now on PC, PS3, Xbox 360, iOS, PS Vita, PS4, Xbox One, 3DS, and Switch.
MORE: Terraria 1.4: How to Increase Luck and What it Does
Source: Reddit