World of Warcraft: Dragonflight

Developer:

Blizzard, Activision

Publisher:

Blizzard, Activision

Original Release Date:

2022-11-28
What's New for Fury Warriors in WoW: Dragonflight?
The World of Warcraft: Dragonflight 10.0 Pre-Patch has brought many changes to all classes and specializations, including to the Fury Warrior. Some skills are no longer either learned spells, covenant abilities, or legendary abilities. Many of these have been moved to talents that you can choose if you'd like to use them. A few examples of skills that are unlockable as talents for a Fury Warrior are:
Rampage
Recklessness
Rallying Cry
Heroic Leap
Intervene
These are just a few of the unlockable skills, with even more as you enter further down the talent trees. Let's go over some fun talent builds for the Fury Warrior in both a Raid and Mythic+ situations.
Talents are now split between a class-specific talent tree and a specialization (Fury) specific tree. You will fill both of these talent trees out to find the perfect build.
It is worth noting that you can also now change you talents anywhere you are. You no longer have to have tomes or be in a city to change talents. As long as you are out of combat, you can activate a different specialization or simply change up one or two of your talents. Make sure you try out many alterations of our suggested builds to see what is right for you!
Fury Warrior Specialization Talents
Here are two Fury Warrior talent builds that will be viable for Raids and Mythic+. As mentioned earlier, feel free to adjust some talents to fit your playstyle. There are so many ways to build characters now and there is not one direct path that will be head and shoulders above the rest.
Dragonflight Fury Warrior Raid Talent Builds (Single Target)
There are two main raid specializations for the Fury Warrior in Dragonflight. You have your typical Raging Blow build that focuses around the skill, and another focusing around Annihilator and Sword of Storms. We'll dive into each of these in their respective sections.
Raging Blow Talent Build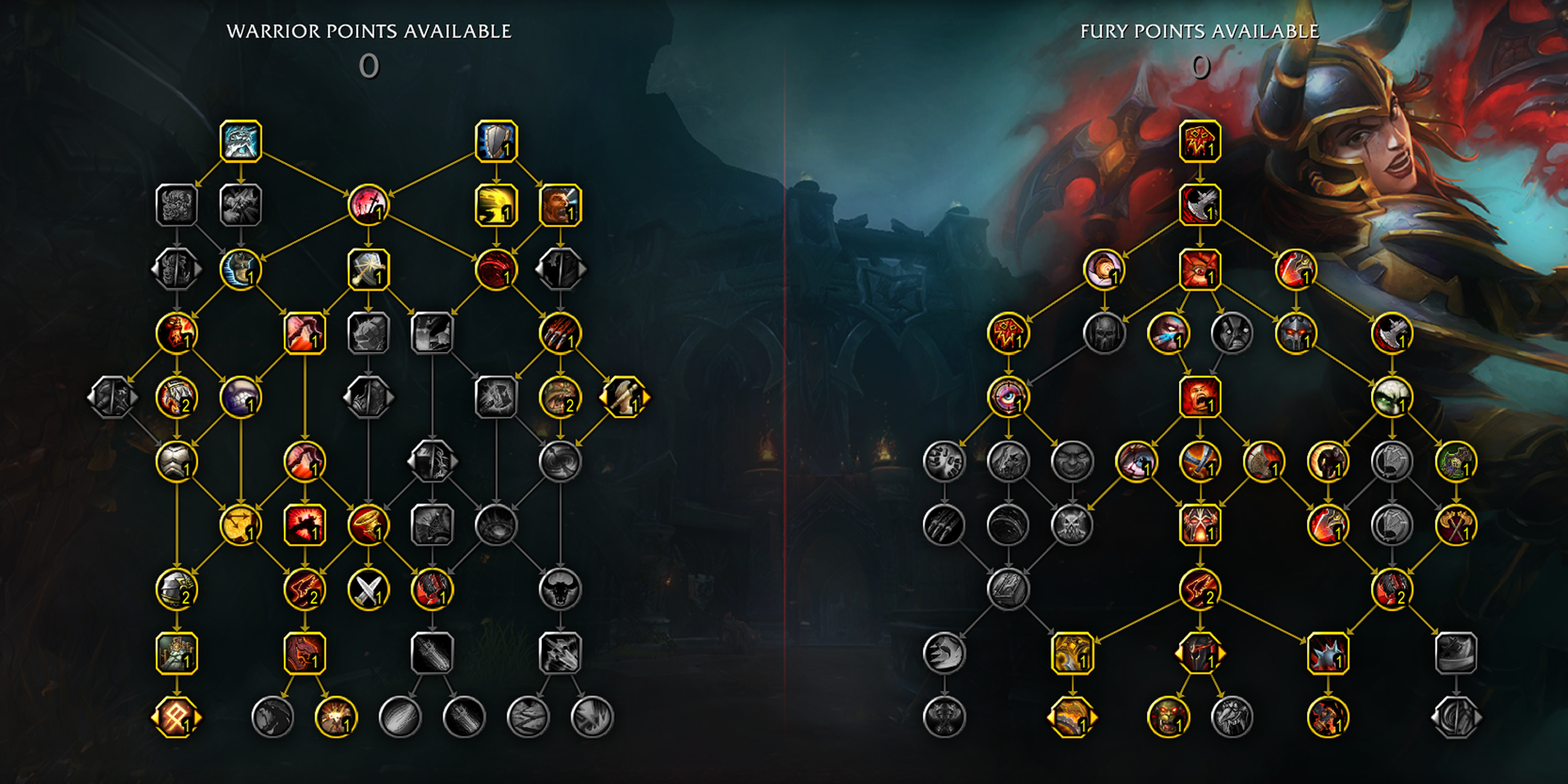 The Raging Blow build focuses on all skills that improve Raging Blow. We stack up several talents here that have a compounding effect such as:
Titanic Rage
Swift Strikes
Hack and Slash
Slaughtering Strikes
Critical Thinking
Raging Armaments
Wrath and Fury
Cruelty
Improved Raging Blow
Honed Reflexes (Class Tree Side)
Onslaught and Tenderize also work together with Wrath and Fury to give you more time enraged, and therefore more time dealing extra damage with Raging Blow.
Level 60 Version for Import: BgEAAAAAAAAAAAAAAAAAAAAAAAAAAAAAAAAAASCKBQESISkEgEiABhkQEJJBCJJJhSaBQkEAAAA
Level 70 Version for Import: BgEAR5QSZgdnGefDo4ho9ZGXKHAAAAAAAAAAAIJoEARIhIRS0ISICEOQIJERSSgQSSSkSaBSSkEAAAAA
Annihilator Talent Build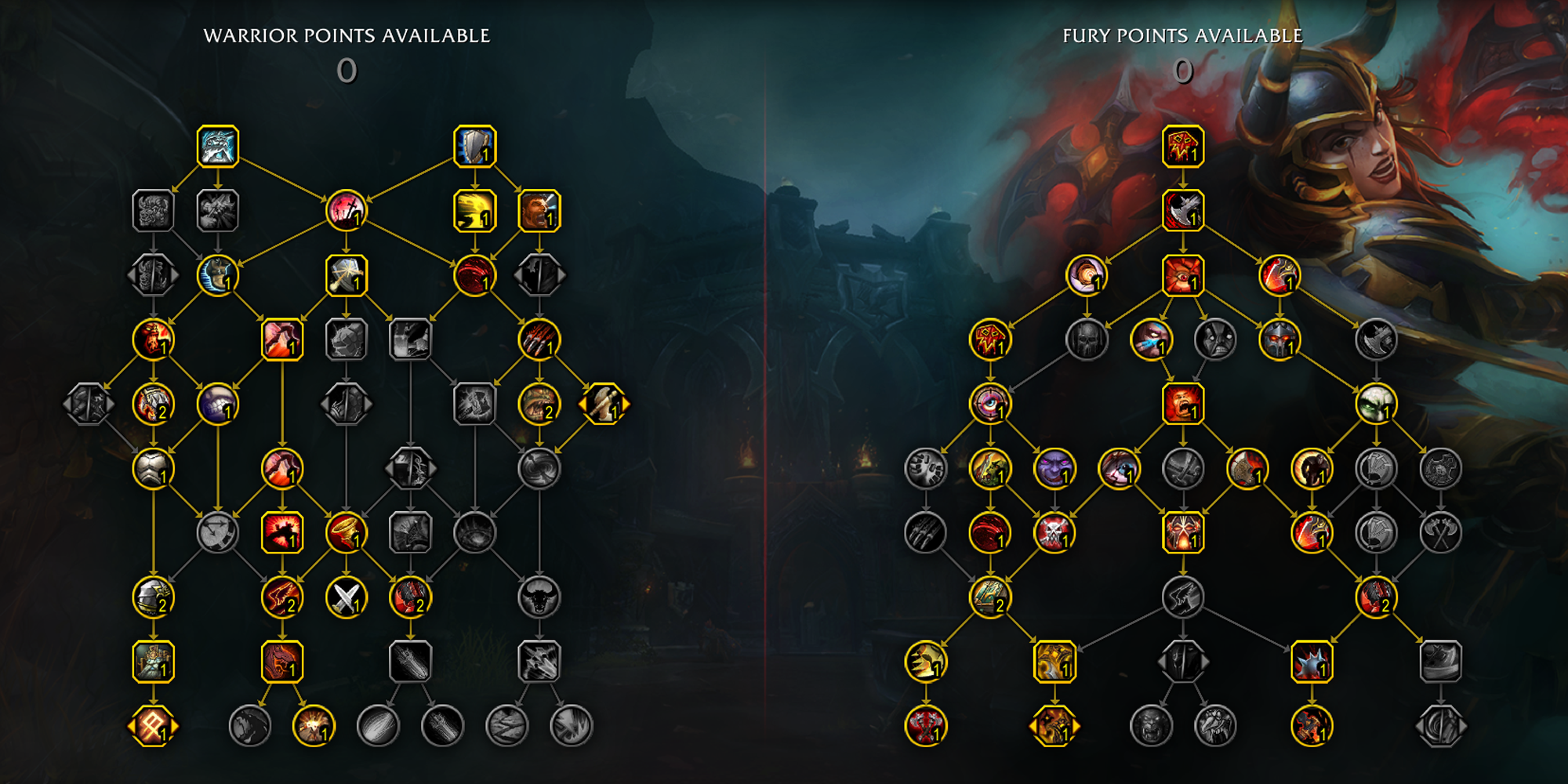 This build is similar to the Raging Blow build, but it utilizes Annihilator. This will replace Raging Blow as a skill, and therefore we redirect any talents that were specifically used for Raging Blow to other choices. We keep the single target mindset here and pump extra points into Bloodthirst-related talents.
Level 60 Version for Import: BgEAAAAAAAAAAAAAAAAAAAAAAEAAAAAAAAAAAIJoEARIhIB0IEiAhDESARSSIJHIRSSAJJAJBAAAA
Level 70 Version for Import: BgEAR5QSZgdnGefDo4ho9ZGXKHAAAAAAAAAAAIJoEARIhIRS0IEiAhESARSSIJHIRSSgSSikQSAAAAA
Dragonflight Fury Warrior Mythic+ Talent Build (AoE)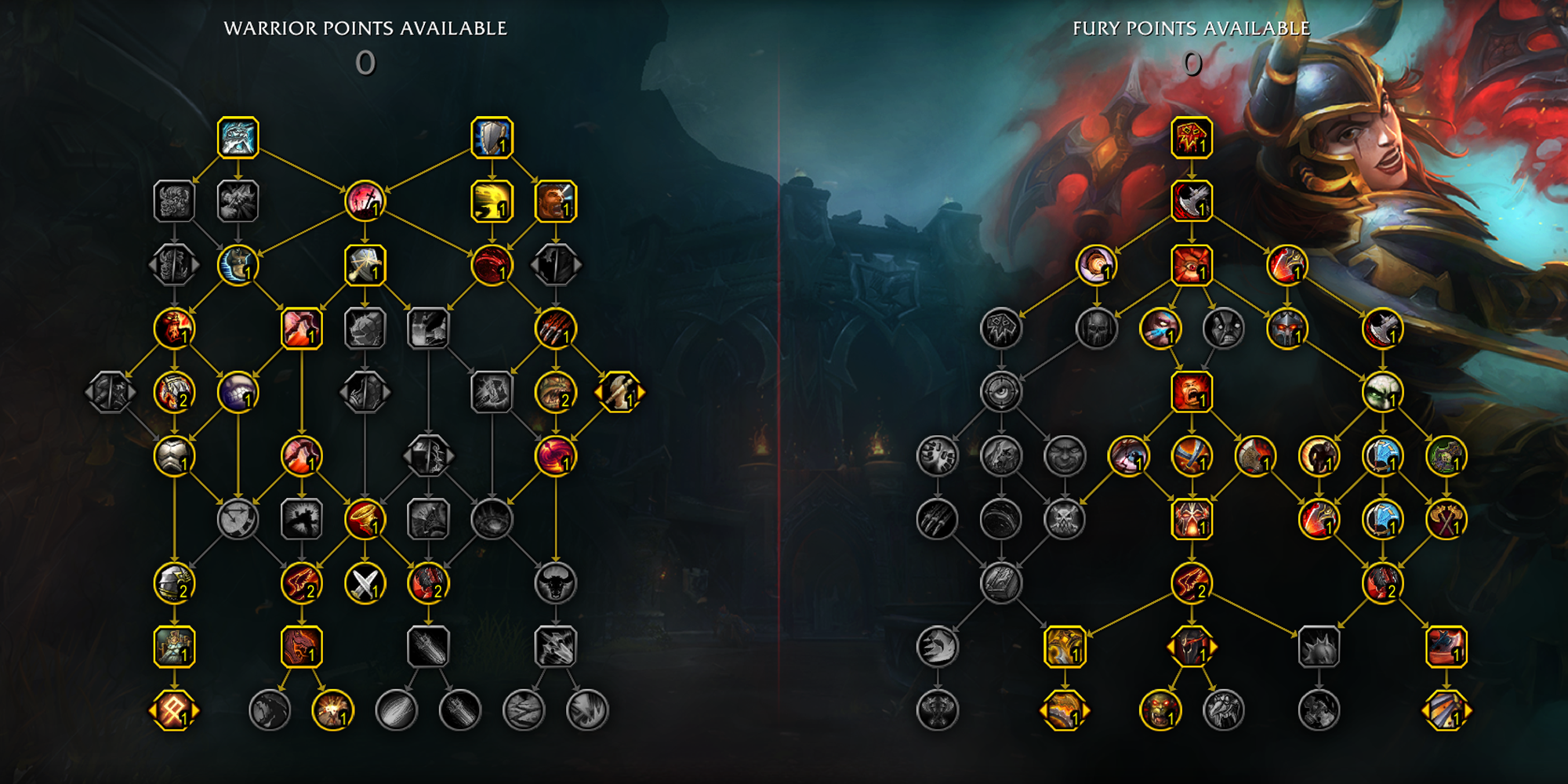 The Mythic+ Fury Warrior build focuses on AoE damage to get through the dungeon as fast as possible by taking care of multiple groups at once. The core of this build is quite similar to the Raging Blow build, but we swap out the Unbridled Ferocity, Onslaught, Tenderize, Bloodthirst, and Focus in Chaos, for more AoE oriented skills such as Whirlwind and Ravager-related talents. We keep Odyn's Fury as another skill that can affect multiple targets.
Level 60 Version for Import: BgEAAAAAAAAAAAAAAAAAAAAAAcAAAAAAAAAAAAIJoEARIhIkEAhIIBhkQSkEBQSSSokWAkkEAAAA
Level 70 Version for Import: BgEAAAAAAAAAAAAAAAAAAAAAAEAAAAAAAAAAAIJoEARIhIkENChIIhESSaJRSEAJJJRKpFgkkEAAAA
Stay tuned for more WoW Dragonflight content. For
now, check out our WoW WotLK Classic Directory!